Jurassic World: Dominion Dominates Fandom Wikis - The Loop
Play Sound
The Geostorm was a disastrous phenomenon that occurred when a series of supernatural geological disasters erupted across the globe at the same time.
History
Geostorm of 2019
The Geostorm was first witnessed in 2019. The Geostorm had caused a series of natural disasters ranging from heatwaves, storms, and tsunamis, causing massive damage to major cities and thousands of casualties. However, the Geostorm was stopped thanks to a new creation called Dutchboy, which was used to neutralize the Geostorm and control the Earth's hemispheres to prevent another Geostorm from occurring.
Geostorm of 2022
After the first Geostorm, the world suffered another Geostorm three years later. However, this time, the Geostorm was intentional and used as a conspiracy by U.S Secretary of State Leonard Dekkom, who believed that the Geostorm was necessary for the United States of America to be the world's top nation and to wipe out America's foes. To do this, he conspired with Duncan Taylor to create a virus to "infect" the Dutchboy and it's satellites that were protecting the Earth's nations to create several geological disasters across the world and self-destruct the International Space Station.
Events
A village in Afghanistan froze because of their satellite. Temperatures presumably dropped to absolute zero.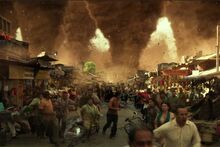 Hong Kong's gas pipelines exploded and set a fire tornado because of their satellite, which started rose the temperature of the area to 130 Fahrenheit. This nearly kills Max's college friend, Cheng Long, who was head of Dutch Boy's Hong Kong department.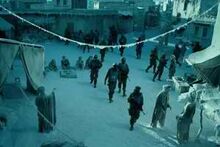 A hailstorm in Tokyo causes mass devastation, with many hailstones the size of vehicles.
Rio de Janeiro is hit by a blizzard, with the temperatures there presumably hitting absolute zero.
The International Climate Space Station is set to self-destruct.
A thunderstorm strikes Orlando, causing havoc across the city. The lightning bolts are highly reactive, showing that it is capable of exploding vehicles.
Mumbai is hit by dozens of massive dust tornadoes simaltaneously.
A satellite laser fries Moscow.
A tsunami hits Dubai, which nearly collapses the Burj Khalifa.